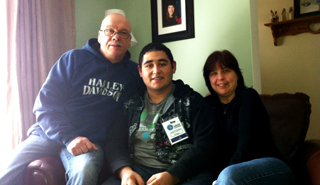 Maurilio Queiroz Lima (pictured here with his homestay family) is a student from Brazil who was studying  at the UCDSB as part of Brazil's Ambassador of the City Program. We met with Maurilio to find out more about how his experience and his studies at Cornwall Collegiate Vocational School were going. Here are some highlights from our meeting with Maurilio.
What has been your favourite class at Cornwall Collegiate?
I play guitar and I really like my music class. My English class is also good and I have a very good teacher, Mr. Black (CCVS).
Are you getting the support that you need from your teachers?
My coordinator has been very helpful and Mr. Jackson, my science teacher has helped me a lot. I needed help in science class because all of the language and terms are hard for me – so my teacher takes the time to help me with that.
Mrs. Razenburg, my English Language Learning (ELL) teacher, has been very helpful! She makes classes very fun. In my ELL room, Mrs. Razenburg will help me with my homework – if there is something that I don't understand.
Is there something that we can improve upon – something you would suggest to make the program better?
School starts too early?! (just kidding) – 8:00 a.m.
Actually, school in Brazil starts at 7:30 a.m.
What did you find was the most challenging part about adjusting to being here in Canada?
Eating vegetables 🙂 (lol)
Actually before I came here, I never ate vegetables, but now I eat corn carrots, tomatoes, a little bit of broccoli and some onions. My family in Brazil was very surprised to hear that.
The cold was hard for me at first.  When I came, I didn't bring the appropriate clothing, but my homestay family helped me to get the right clothing and a nice warm jacket.
What is your favourite food in Canada?
Fish and pork, and (now) broccoli 🙂
How has your homestay experience been?
I couldn't have a better homestay family – I have been very happy with my homestay. My homestay mom loves the Montreal Canadians and my host dad loves the Toronto Maple Leafs (hockey team), so we have joked around about that.
Staying here is easy. I would come back to study here in and I would choose to stay with the same homestay.
Have you found it easy to make friends?
Yes, lots of friends. I find it hard to remember their names, though! Because they are very different names than the names that I am used to at home. Katrina, Carl, very different to pronounce.
What do you like the most about Canada?
Winter, I love the snow – I don't like the rain much, but I love the snow! In Brazil it is always hot.
In Canada, the money exchange compared to Brazil is good! I find that electronics are really inexpensive. So we have been having fun with that. I bought an xbox while I have been here.
The English words that I will remember forever are "perfect", "excellent" and "absolutely" – those are words that my host dad says all the time.